---
  COVID-19 Update
To our Twelve Ga. Customers,
The crisis caused by the pandemic has taken on unprecedented proportions. With containment measures, the closure of many public places, and social distancing, our lives have been significantly affected. We are closely following the Ministry of Health and World Health Organization guidelines and recommendations on the steps we should take to help prevent the spread of this virus. We conduct regular and frequent disinfecting of high contact areas in our office during the day and supply hand sanitizer and/or disinfectant for regular use by our customers and employees.
Our office and shop are currently open from 7 AM to 5 PM but visitor's access is limited at this time. Please call us or email us.
Phone Scam Warning
---
We will never call you with an automated message, nor ask you to enter any numbers on your phone. (press 1 or press card number etc)
One of our staff will call individual customers/companies to confirm the order and shipping & billing address. and we will ask for payment when everything is ready to ship & confirmed by the customer.  
---
Twelve Ga. Customs will never
-demand immediate payment by Interac or e-transfer, bitcoin, prepaid credit cards.
-ask payment information via email
-use an Automated message/automated answering machine.
-ask for your personal information,  identification number, or SIN number/Social security number.
---
How to protect yourself from identity theft
Never provide personal information through the Internet or by email. Any company should not ask you to provide personal information by email.
Be suspicious if you are ever asked to pay for what you have no knowledge of.
Keep your access codes, user ID, passwords, and PINs secret.
Caller ID is a useful function. However, the information displayed can be altered by criminals. Never use only the displayed information to confirm the identity of the caller
Report a scam
https://antifraudcentre-centreantifraude.ca/report-signalez-eng.htm
---
  FAQs about orders
Can I place an order?
>Yes, Please call us at 519-766-0943. We are open Monday to Friday 7-5.
How can I get my order?
>We can ship your packages and skids as usual, and you can also pick up your order outside of our shipping bay. Please note that our shop and office access is limited at this moment.
---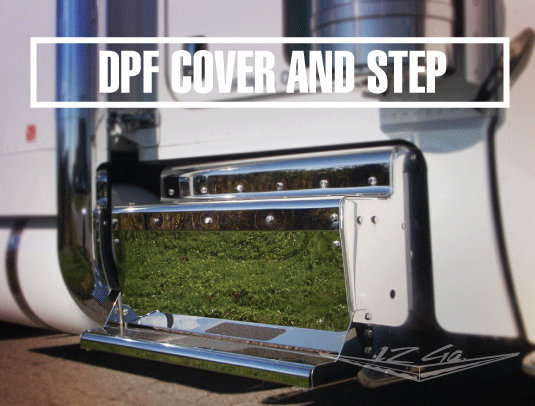 HIDE THE NECESSARY EVIL
$389.00 FOR 16 GA. 304 SS COVER AND STEP
SIDE GUSSETS ALSO AVAILABLE, SOLD SEPARATELY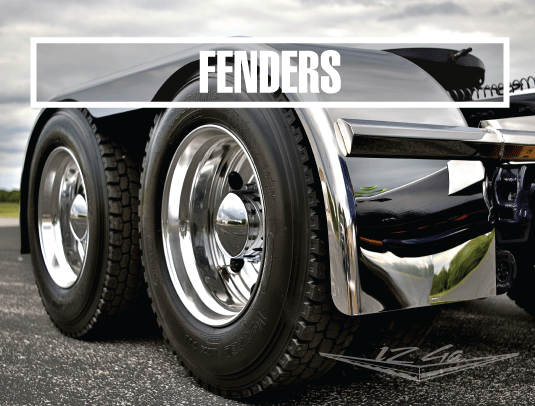 MIRRORED 16 GA. 304 SS
Full, Half, Hoop and more styles of Fenders available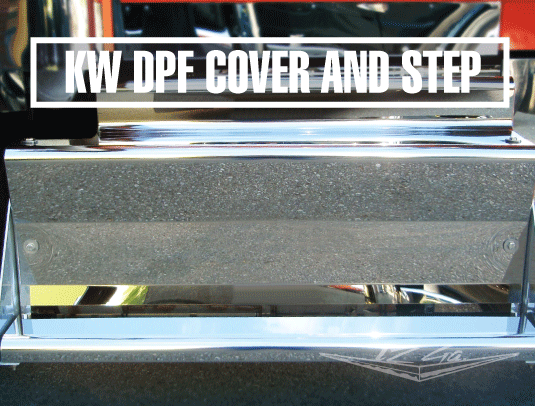 S/S KENWORTH DPF COVER
16 GA. 304 STAINLESS STEEL KENWORTH DPF COVER AND LOWER STEP.
BATTERY BOX LID AND LOWER STEP TO MATCH. ALSO AVAILABLE, SOLD SEPARATELY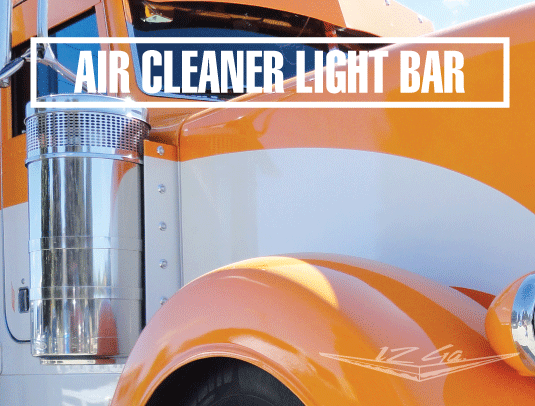 5″ Front or 3″ Rear bar available
16 GA. 304 STAINLESS STEEL
or ALUMINUM
3/4″, 2″, cab light, and other light holes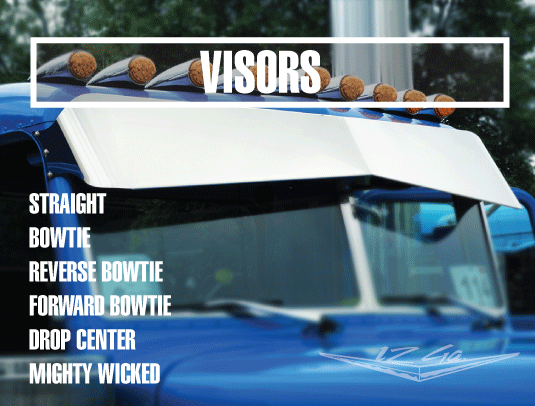 VISOR FOR PETE OR KW
BOLTLESS 1PC or 2PC VISORS
2PC 16GA 304 S/S or  2PC-ALUMINUM/Brushed Stainless(Paintable)
1PC 16GA 304 S/S or  1PC-ALUMINUM/Brushed Stainless(Paintable)
MIRROR BRACKET- PETE OR KW
1.5″ STAINLESS STEEL PIPE
POLISHED OR UNPOLISHED S/S
CAB OR DOOR MOUNT FOR PETE, CAB MOUNT FOR KW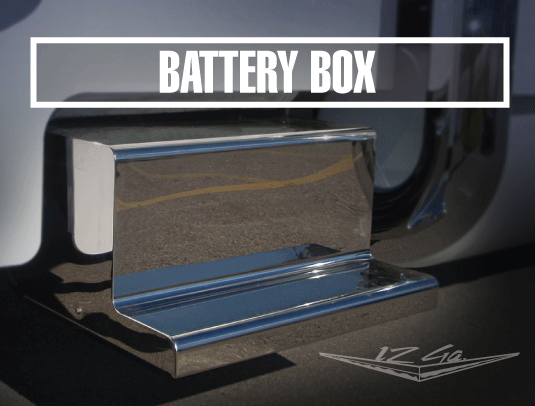 BATTERY BOX 1 or 2 PC
16 GA. 304 STAINLESS STEEL
or Brushed/Raw Stainless for Paintable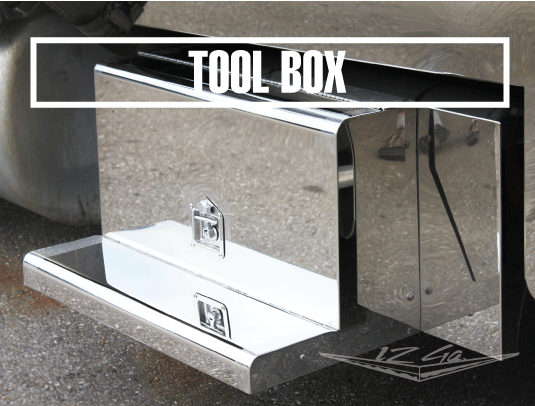 TOOL BOX
16 GA. 304 STAINLESS STEEL
or Brushed/Raw Stainless for Paintable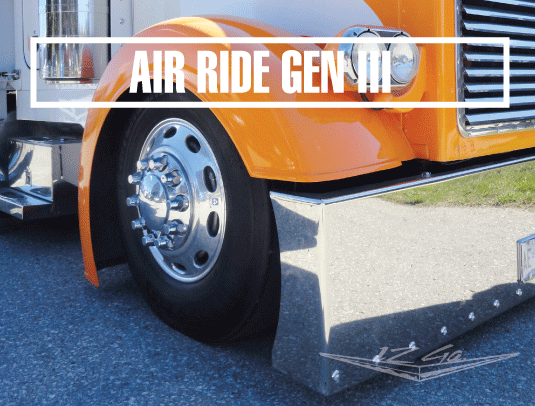 AIR RIDE GEN 3
Provides up to 10″ of lift
Improves ride
Upgrades to 4 Shock system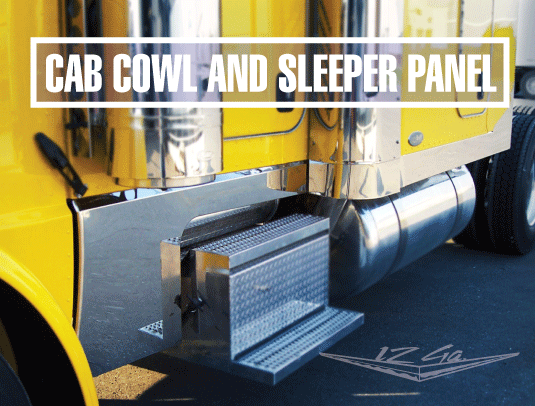 CAB AND COWL PANEL
304 S/S STEEL or ALUMINUM
359,379,388,389 & KW W900
Light holes available on Face or lower edge/custom pattern available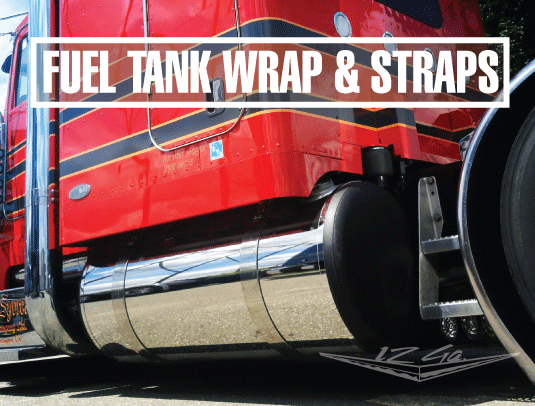 FUEL TANK STRAPS
11 GA. 304 S/S or PAINTABLE
Available for Pete or KW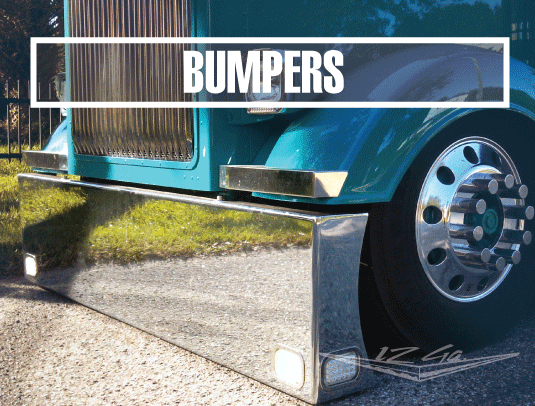 S/S BUMPERS
11GA S/S BOX END | TEXAS | AMERICAN EAGLE | CUSTOM DESIGN AVAILABLE